Learn about our mission and the work we do in the community.
For more information or to RSVP for a tour, contact our Philanthropy Director, Cassandra Wagner at cassandra@giraffelaugh.org or 208-954-5456. You can also sign up today using the signup link.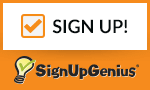 During this 30 minute tour, guests will hear stories from families who have been served by Giraffe Laugh. Our goal from every tour is to spread the word about what we do with your family, friends, and coworkers. We don't even ask for donations!
If you are unable to attend a tour at our center, Giraffe Laugh can bring the tour to you. Called "Tour in a Box", we can come to your home, office, church or any type of group meeting so that your group can learn more about Giraffe Laugh.
People who bring at least 10 guests to our tours are ambassadors, considered one of our most important volunteers.
Experience, Learn & Share!